A Home Away from Home
For times when you need extra time from picking your cat up from grooming, or a calm & safe space for your feline friend to spend their day, Hey Good Cat Retreat offers a home away from home.
Fun, Functional, Spacious

Designed with our feline friends in mind: personal double-decked penthouses for rest, eat, and play.

Supervised Individual Playtime

Dedicated & customised playtimes to meet your cat's inquisitive mind.

24/7 CCTV Access

24/7 access through your phone for times when you miss your feline best friend.
Parasite-Free Facility

An exclusive facility for cats groomed and assessed by our grooming professionals to ensure a healthy, parasite-free space for all.

Toxic-Free Environment

Air-purifying & VOC-free paint, chemical-free sanitising products for your cat's environment. We're a big about minimising toxins for maximum health.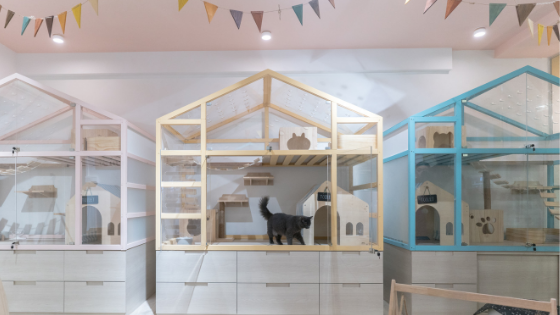 Designed for movement & privacy
Each penthouse is the size of a single-sized double-decked bunk bed designed to allow them to jump and hide and play!
Services & Rates
1hr Quick Recharge • $19/hr

40% off 2nd cat onwards

Includes:

‣ 1-hr Penthouse usage

‣ Live CCTV access

‣ Rates apply for additional hours

Half-day (4hr) Short Stay • $49

40% off 2nd cat onwards

Includes:

‣ 4 hours Penthouse usage

‣ Live CCTV access

‣ 1 meal time (if required)

‣ 15mins supervised playtime at Common Area

-

Check-ins available between 10am to 2pm.

Full-day (8-hr) Retreat • $79

40% off 2nd cat onwards

Includes:

‣ 8 hours Penthouse usage

‣ Live CCTV access

‣ 1 to 2 meal times (if required)

‣ 2x 15mins supervised playtime at Common Area

-

Check-in: 10am | Check-out: 6pm